Video Conferencing and Live Virtual Classrooms
Main Content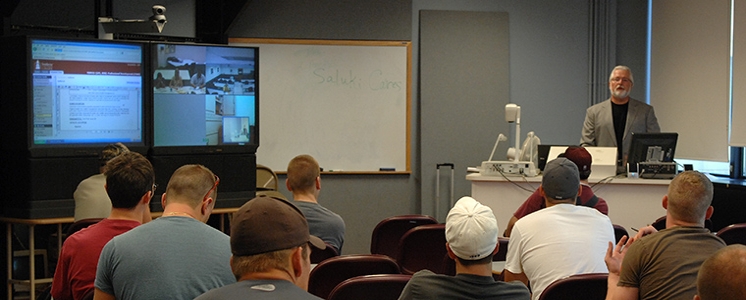 Videoconferencing services links faculty and students around the world, creating virtual classrooms through a variety of programs to meet specific needs.
We can connect instructors and students, wherever they are, and even bring guest speakers to the classroom electronically. We also provide conferencing capabilities support for specialized conference needs, including sign language interpretation.
We link people through various systems including:
Polycom videoconferencing
Zoom services
To request or renew your Zoom license for the upcoming semester, please click here: 
To schedule a videoconference, web conference or teleconference, use the online form.
We work with the Southern Illinois Collegiate Common Market, supporting 40 video classrooms in Southern Illinois with classes in session every day of the week. The other members include John A. Logan College, Rend Lake College, Shawnee Community College, Southeastern Illinois College and the high school and extension sites for those colleges. In addition, we are interconnected with the State of Illinois Network, IU School of Medicine, VideNet and Internet2 institutions.
Whether you're connecting one-on-one, classroom-to-classroom or having a blended classroom presentation, we offer the audio and/or video solutions to make it happen.